41 Inspired Comments
Happy Thursday my sweet blogging friends.
I'm going to share a little secret with you....
These sweet pink daisies were not found in a wildflower garden ....Honest they weren't..
:)
I took this shot at the local greenhouse.
These happy daisies were sitting on the table amongst all the other flowers... waiting quite patiently for a garden to grow in....
The trick to getting this shot...... get level, get up close and personal, and of course some fabulous natural light helps immensely....
I used my sigma 50mm f/2.8 macro to capture this. I adore my macro lens. And I use it over and over...not just for macro shots, either.
Are you ready for today's photoshop recipe? Be sure to mouse over to see the before image above...
Let's get started.
Day 4: Soft & Pretty with just a Hint of Pink
All steps applicable to Photoshop CS and Photoshop Elements.
Layer 1
I duplicated the base layer. (remember yesterday's tip... control j or command j to duplicate the layer).
Layer 2
Added a hue/saturation adjustment layer and dropped the saturation down to about -65. Don't panic, it's going to make the daisies look UGLY! Really UGLY!
Layer 3
Added a levels adjustment layer. My settings : 0, 1, 195
Layers 4 & 5
Another adjustment layer. This time I used the photo filter adjustment layer set to the default warming filter 85 at 25% opacity and preserve luminosity checked off. Here's the trick, change the blend mode to soft light 100% and you will see a wonderful improvement. To create just a little more oomph, I duplicated the filter layer.
Layer 6
Added a solid color adjustment layer in a soft lilac shade (hex cod#e0d9e0) blending mode soft light opacity 85%.
Layer 7
Optional: I used some grungy bar brushes from an old stash by nrj. I looked for a link to them, but I could find it anywhere. I purchased them over a year ago. If you happen to know where to find them,...please leave me a comment so I can add the link.
In the meantime, do a search for grungy bar brushes, there are tons of freebies available.
I stamped/painted the border with the white grungy bar brush at 65% opacity and changed the blending mode to soft light., using the brush menu to rotate the brush as I worked my way around the border.
Layer 8
Finishing Touch - added a texture. It was quite pretty without the texture, but I wanted to add a fabulous finishing touch. I used the History texture from Texture Collection #1. Set the blending mode to soft light 100%. And that was that. It simply finished the pretty pic.
.....
I have a
surprise
for you today.
Wanna try creating this image on your own?
You can download a low res version of this photo along with the texture and give it a try.
Click
here
to access the photo and texture download.
.....
I'm also sharing a give away today. Post a comment below to enter the
inspiration stay-cation eBook
give away. I will select 3 winners using a random # generator on Monday, August 30th.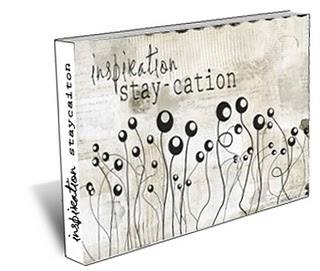 See you tomorrow with the day 5 recipe and of course Friday's freebie texture!
Did you enjoy this tutorial? Consider signing up for my texture lovin' list to keep up with the latest offerings, freebies and fabulousness.
Or wanna dig into photoshop a little deeper? Check out my eClasses HERE.
talk soon my friends... xxo,
p.s. if you found this post helpful, please consider sharing via facebook or twitter using the buttons below.
Posted on
August 26, 2010